The image is alive, come make your own!! That is what the New York Public Library (NYPL) is trying to communicate in its latest efforts of gauging audience interest through a revived form of imaging called stereoscopy. Before discussing this latest trend, what exactly is stereoscopy? To abstain from the complex physics behind this phenomenon, stereoscopy or 3D imaging is simply a technique for making images come to life by creating an illusion of depth. This is accomplished by stacking two offset images on top of each other using imaging software. With the advent of technology, making and viewing these images has become widespread.
Stereoscopy is not a novel undertaking; it has been around since the photograph first originated in the 19th century. In fact, Queen Victoria and Prince Albert were the first to receive a stereoscopic viewer at the Crystal Palace in 1851, making stereoscopy popular. This popularity allowed photographers a chance to take part in early 20th century media markets. Everything from local history events to landscapes and war scenes became popular subjects of stereoscopy. This mass form of communication faced its demise almost 100 years after it originated with the release of technologies like radio and television. Stereo images span years of historic photographic memory and have the potential to reveal long-vanished physical and contextual reality. Today the NYPL invites us to create our own historic photographic panoramas.
With the launch of "Stereogranimator," one can leaf through images from the past and find everything from the Brooklyn Bridge to New York's 5th Avenue. Through the web interface, one can alter the position and change options until a desired 3D effect is obtained. NYPL's purpose is to draw younger audiences toward untouched material and motivate users to use the information creatively. Stereographs create further use and study by bringing mass communication back to life in an imaginative form. With this new initiative, the possibilities of creating an infinite library of stereo images and attracting new "stereocreators" are unlimited. The library's experimentation through this enterprise is impressive.
An generic example NYPL offers: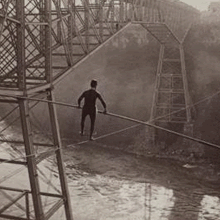 The attractive form stereoscopy inspired me to take a step forward. Unexpectedly, I was able to catch a few shots of Stanford's campus and discover ways of creating my own stereo photographs (see below).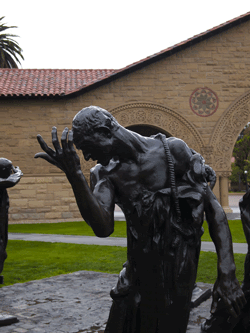 Through the invention of new technologies, perhaps this eye-catching form of communication can be revived in other mediums like online textbooks or newspapers. The future of this resurrected technology can be viewed in, uhh, many perspectives.
Cesar Ambriz